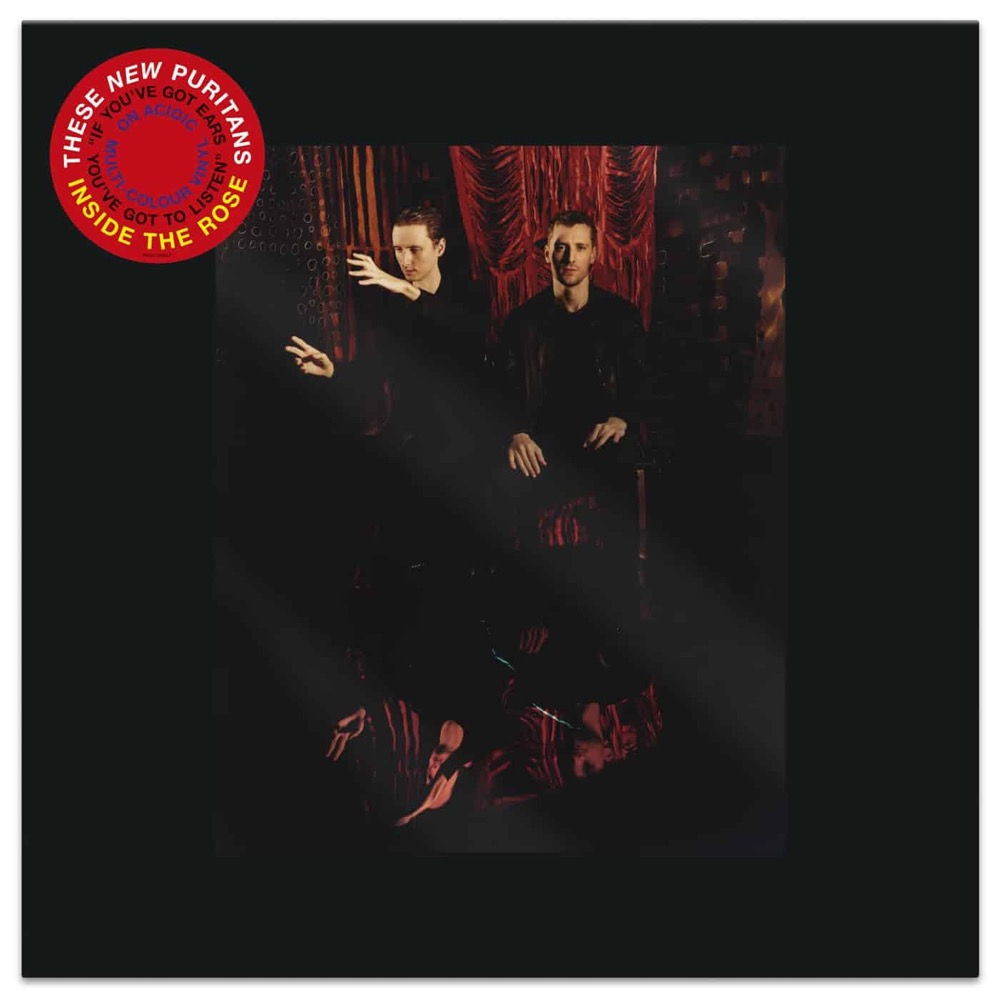 The twin brothers Barnett are back: it's These New Puritans, joined by Graham Sutton (Bark Psychosis) David Tibet (Current 93) and a sizeable list of other chums. In the bobbing, neoclassical wave wake of 2014's Field of Reeds, the band seem to have found their way into a more energetic, seething post-punk for this one.
Vinyl LP £19.99 4050538451887
Limited edition, acidic multi-colour vinyl LP on Infectious Music.
Only 1 copy left (1 person has this in their cart)
This item is in stock and can be dispatched immediately.
---
CD £12.49 4050538451894
CD on Infectious Music.
---
REVIEWS
8/10
Clinton
20 March 2019
I promised I wouldn't do it. I promised I would wait until I received a final finished version of These New Puritans new album before I formed an opinion. Similar to the fact that I'm not judging them on their appearance at Princess Eugenie's wedding, I'm not going to judge them on Into the Fire, the lead track from this long awaited new album which I found dull, repetitive and underwhelming. I didn't want to be that guy who instantly dismisses a record without listening to it whole. Just imagine the Twitter furore when Spirit of Eden was released? It doesn't bear thinking about.
I'm happy to report then from various soundclips (yeah I know) that Inside the Rose collectively is better than the initial impressions given by that song. They'll never make a record better than Field of Reeds (who will?) but Inside the Rose is full of the sort of bold, experimental and thought provoking music that we ache for at Norman Records. It seems to follow a lineage from David Sylvian, Coil, the Blue Nile and all those artists who dug a little deeper.
There are flaws. Where the Trees Are On Fire is a beautiful dramatic piece of music which frustrates only in its constant repeating of the title. Lyrically I was hoping for more here - is it enough just to repeat the same refrain over and over? Sometimes, yes but here I'm feeling short changed. Much better is Anti Gravity in which These New Puritans perfectly find a sound midway between the loose-limbed compositions on Field of Reeds and the dramatic orchestrated music they have been aiming towards since. The title track is possibly the culmination of this - something that recalls both Ryuichi Sakamoto and Burial. A massive sprawling burst of sound with is both emotionally draining and extremely sonically interesting.
It's this juxtaposition of beauty and experimentation that we are sorely lacking particularly in British music these days and These New Puritans are one of the few bands to really strive for something different. As a postscript I've now listened to the album several times and my new conclusion is...a bit patchier that was hoping for. While the title track and Anti Gravity are excellent, other track like ARP offer very little and Jack Barnett's voice is found wanting on a few occasions. Still, they do at least try to make something important.
---
10/10 François Hubert 21st April 2019
It's very rare to find something so original these days. The music never feels forced. It's as if the brothers did everything to do justice to a music that was already out there, waiting to be unleashed/ polished. The beautiful and melodic songwriting doesn't follow the verse/ chorus/ bridge model and is therefore truly experimental in the truest sense of the word. In my opinion, the songs benefit from being much more concise than on their previous "Field of Reeds" album. They are instantly enjoyable, yet this is the kind of album which still grows on you the more you listen to it. As for the overall sound itself, the band has managed to perfect their subtle mix of highly percussive elements (in which the vibraphone plays a key role), electronic beats and arrangements & structures which have a "classical music" feel to them (without ever sounding "prog"). This one's come highly recommended to those who love Bark Psychosis, Disco Inferno, Insides, Butterfly Child... A very powerful and timeless release: in other words, an instant classic. Don't wait 25 years to discover it.
---
9/10 Richard 12th April 2019
I hesitated on buying this at first. Listening to the pre-release tracks online didn't convince me that it would be worth the investment, but once I was able to stream the album as a whole my mind was made up. Definitely worth the cash, although beware that the vinyl doesn't come with a download code (boo!).
Opener 'Infinity Vibraphones' sounds like later-era Coil in it's intro. The deep vocal complements the track perfectly, and it's a pretty captivating start to the LP. 'Anti-Gravity' has a similar feel to the very best work of Eyeless In Gaza, and the LP as a whole sounds very 80s in places. But in a good way. It's no surprise to see that David Tibet of Current 93 is involved, and also Graham Sutton of Bark Psychosis, as the record shares the similar esoteric & atmospheric qualities of their bands.
Other tracks that are a highlight include the slow burning 'Where The Trees Are On Fire', and 'Inside The Rose' which makes sense listening to it as part of a whole, rather than as a stand alone track pre-release.
This is an adventurous record, that is big, bold and experimental, but stays just the right side of commercial to appeal to a wide range of listeners. Make sure you are part of that group. Great stuff.
---
8/10
Sandro
Customer rating (no review), 15th May 2019
8/10
Troy
Customer rating (no review), 12th April 2019
10/10
Aleksandar
Customer rating (no review), 4th April 2019
---
---
---
YOUR RECENTLY VIEWED ITEMS
---
PRESS RELEASE
What the artist or label has to say for themselves. Read more.
---